The Problem:
Anyone who has been to the beach recently is familiar with the monotony that is beach umbrellas. For the most part, they are all the same, usually blue, and altogether unimpressive. The beach is supposed to be a fun family vacation spot; there is no reason for it to be so drab. Fresh off the success of our American flag clear backpacks, we looked on Amazon for a beach umbrella with an American flag pattern. To our shock and surprise, there were none!
The Solution:
We used our extensive contacts in China to address the problem head on, considering several designs before settling on an elegant one welcomed by beachgoers throughout the country.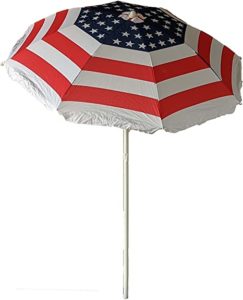 The Results:
The American flag beach umbrella has become the flagship product of our Better Dweller brand, focusing on lifestyle products and home goods. It has hit the market in advance of summer 2022 and has already become a sensation. Due to high consumer demand, we plan to continue to develop our line of beach-related items for online sale.